PWDs empowered as entrepreneurs
Increase in Avg. Monthly Income
PWDs face sparse opportunities
Chennai city offers profuse opportunities to its younger generation, but doesn't promise the same to the differently-abled. They face challenges at each stage of their life. They face exclusion at schools, places of worship, public spaces and also at work. As a society we have so far failed in providing them the necessary support to thrive, thereby denying them the opportunity to actualize their potential. These denied opportunities pose a burden on the differently-abled individual and the community itself. 
United Way Chennai enables differently-abled individuals to live full productive lives by creating micro-entrepreneurship opportunities for them.
Empowering them through micro-entrepreneurship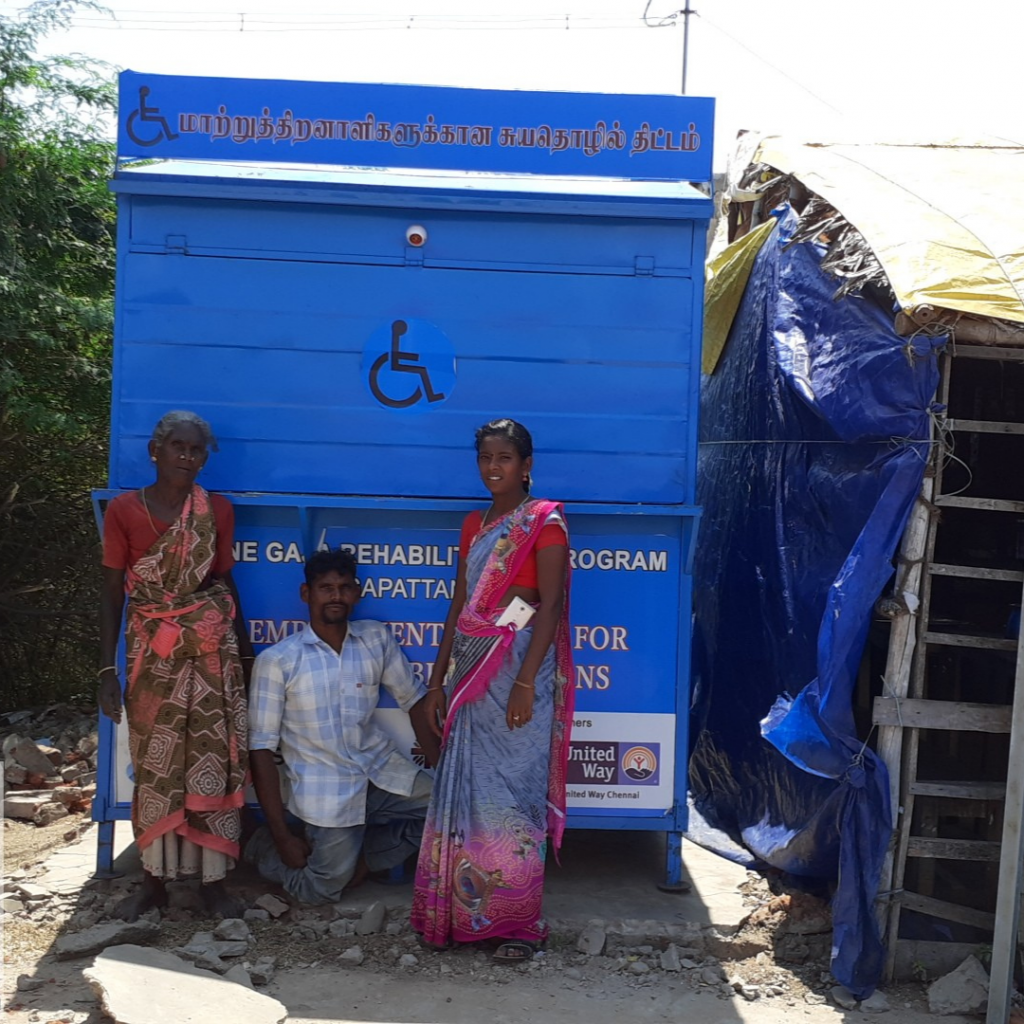 Micro-entrepreneurship is normally a small business run wholly by the owner itself or by employing minimum labour. UWC sets up bunk shops or accessible petty shops in the locality of a differently abled person, thus helping them reduce travel. Made of metal with a ramp on the side covering a 6×5 feet space, setting up a bunk shop normally takes 3 weeks after which it can be used as a grocery shop, tea shop, stationery shop, recharge shops, etc.
As a micro-business it also helps impart a sense of ownership in the differently-abled person, thus empowering them.
Building an inclusive tomorrow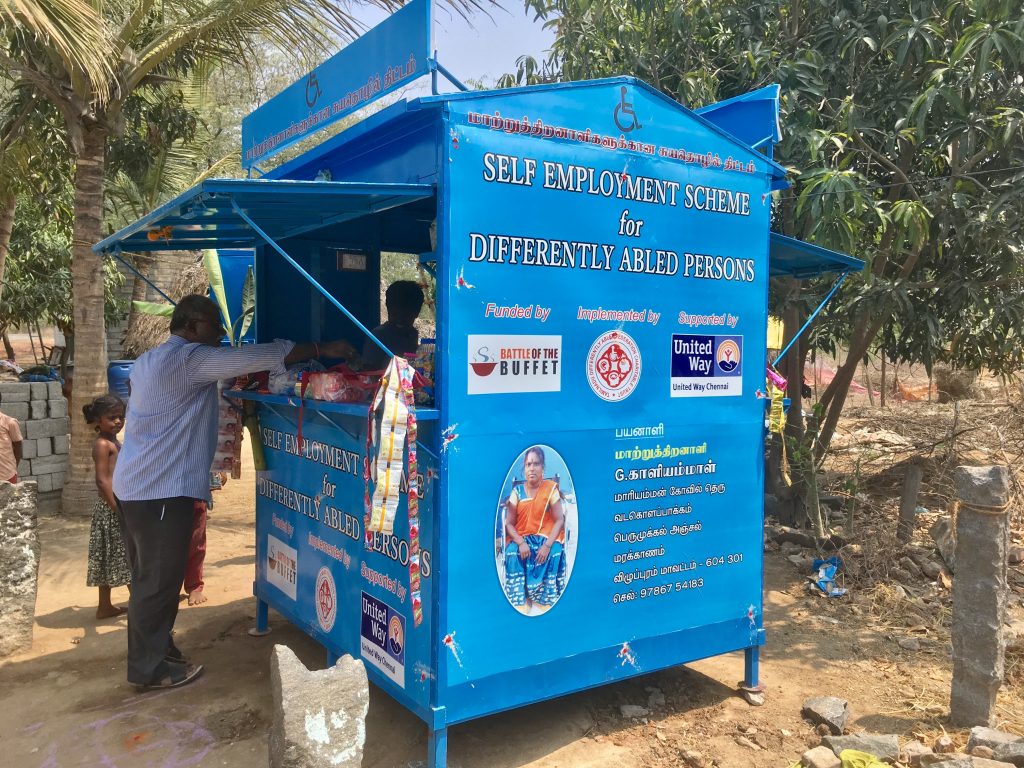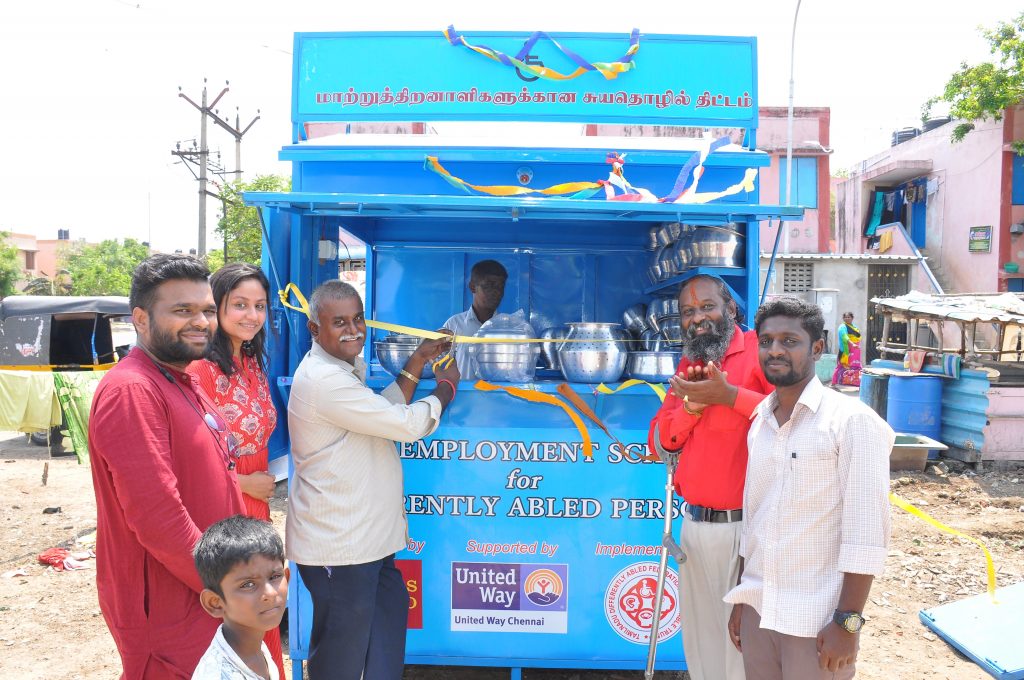 As part of our mission to promote accessibility and inclusivity, our bunk shop program is customized to suit the needs of every differently-abled individual.
Identifying beneficiaries: Identifying a beneficiary for a bunk shop is a two-week process that is based on the person's type and severity of their disability, their financial background, and their previous job or business experience which give a deeper understanding of their needs. 
Counseling & Verification: Our focus extends beyond just providing the bunk shops. Once the identification is done a counseling session is conducted where they will be trained in several aspects like procurement and management of inventory, marketing, and cash-flow management skills, and general entrepreneurial aptitude. By the end of this process, the number of beneficiaries and the products to be purchased are finalized. The verification procedure is followed along with finalizing the location for the bunk shop. 
Customization & Fabrication: Inclusivity plays a very important role in the identification process. The bunk shops are customized and built, making it easier for the beneficiaries based on their type of disability. From setting up a ramp to placing the bunk shop right by the beneficiary's residential building, every aspect is done with utmost care and concern, keeping in mind the efforts they need to put in to get through their mundane activities. 
Inauguration: Post customization and fabrication, the inauguration takes place in two weeks after which the bunk shop will be handed over to the beneficiaries. Hand Holding activities include monitoring the sales and profits of the bunk shop based on which minimum financial support for further working capital is provided to meet seasonal demand fluctuations. Supporting the beneficiaries in filing mandatory returns to the Government and ideas for market expansion will also be provided. Officials from UWC pay monthly visits to assess performance and progress and also to ensure maintenance.
Want to volunteer in our projects?